scroll for german version
︎︎︎
OLAF STÜBER
(*1962)
lives and works in Berlin. He is a curator for contemporary art with a focus on time-based media. The
Galerie Olaf Stüber
(2001–2011) focused on the moving image as early as 2003 and was at the time one of few galleries that helped establish artist film and video art on the German art market. In 2008 he founded
Videoart at Midnight
together with Ivo Wessel and has been the editor of
Videoart at Midnight Edition
since 2012. Olaf Stüber lectures internationally on artist film and video art in the context of the art market, curates programs and exhibitions for institutions, fairs and festivals, is a consultant for institutional and private collections, and has been a member of numerous juries.
Swimming to Insights
by Olaf Stüber
I spent most of my free time as a child and later as a teenager in a swimming pool. Not in a private pool but not in a public one, either. It was a club pool. A sheltered world. In swimwear we were all the same (well, more or less), whether we were the offspring of labourers, white-collar workers or children from well-off families. Although there were not many of the latter—they were probably busy boring themselves in the swimming pools of their parents' villas. There were no children with migratory backgrounds. Save for the owner of the Italian ice cream parlour's daughter. She was lovely. What mattered was your performance in the pool: either you were a good swimmer, maybe a good water polo player, or you weren't. Many of our "firsts" happened in this pool: the first kiss, the first experience of drunkenness after winning a tournament, the first cigarette, the first shared nude shower.
Outside, the world kept spinning. Next door, for example, behind the boiler house, separated by a fence and barbed wire, was the municipal outdoor pool. There, families of all nationalities crowded together on the grass beside the snack bar and in the water. It was louder, more turbulent and more aggressive. The police did not have to come in those days, but often it was a close-run thing. The barracks of the "guest workers" were located on the way to the swimming club. You never saw them. Only their laundry, which was always hanging outside the windows in summer. They remained strangers.
Many years have passed, many experiences and encounters have broadened my horizons, much has been learned. The world has changed since then. However, there is much that stays strange, and despite my curiosity, many things still remain on the "other side of the fence". My love of swimming pools has stayed with me. And so I have put together a programme lining up pool after pool into a river that doesn't take me back to where I came from, but carries me forward.
Monira Al Qadiri, Diver Welt, die durch den Zusammenprall von , 2018, video, 4:00 min, film still. Courtesy: Monira Al Qadiri
In Monira A Qadiri's film
Diver
, synchronised swimmers glide weightlessly and elegantly through a swimming pool or perhaps open water, displaying their delightfully varied choreographies like patterns in a kaleidoscope. The water is dark blue, almost as black as oil, and a diffuse, cold light source makes the swimmers' bathing suits shimmer in iridescent colours reminiscent of gasoline streaks on water surfaces. The soundtrack comprises a male voice singing in Arabic. A strangely harsh contrast, if you don't know the story behind it. It is a recording from the 60s of the fijiri singer from a pearl diving boat. Before Kuwait's independence and before the country became the world's largest oil exporter, pearls were serious business. Al Qadiri's grandfather still worked as this type of singer. His songs were to keep the crew happy throughout their long trips.
Diver
is a very personal film, building a bridge between the artist and the fairytale-like family stories from her childhood of an ancient civilisation before the oil and the contemporary Arab world—a world which has been thrown into huge social turmoil by the clash of dizzying prosperity and globalisation on the one hand and ancient traditions and conservative religious influences on the other.
Corinna Schnitt, Living a beautiful life, 2003, 4:3 mini DV video, 13:00 min, film still. Courtesy: Corinna Schnitt, Phillip von Rosen Galerie
Corinna Schnitt's work
Living a beautiful life
could also be entitled "Boredom by your pool". Because compared to the colourful activity in a public swimming pool, the single-family pool is either decadent or boring, and generally reserved for a small, mostly white upper class. Boredom and the white upper class are also the themes of Schnitt's film: A good-looking couple drape themselves separately around a villa above Los Angeles: in the classy designer kitchen, in the walk-in wardrobe, or beside the swimming pool with a view of city. They tell us how wonderful their life is, how successful they are, how wealthy, how fit and how well their children have turned out. The longer you listen to them, the stranger the scene becomes. Their stories of bliss become more and more dull, lonely and empty. But the frightening thing is: Corinna Schnitt has put the fancies and future hopes of the youth of Los Angeles into the mouths of the two protagonists. Perhaps they have been cut and reassembled, but they reflect the fiction of a perfect, ideal world that is as unrealistic as the prologue scene, taken from one of those emblematic East German fairy tale films (DEFA) in which naked children play with baby animals in the clearing of a forest.
The gardens of the luxurious private villas in the Hamptons, the summer retreat of New York's high society, are equally exclusive. In the two-channel installation
Forever (configuratie)
by Julika Rudelius, five obviously privileged, well-dressed ladies around sixty or older, pose alternately beside their lonely, quietly rippling pools on deck chairs or on the diving board. They stroll through the garden and shoot self-portraits with a Polaroid and self-timer. They muse on the question of their beauty and the happiness associated with it—despite their insistence that inner beauty matters most, their conversation invariably revolves around outward appearance. They talk about the importance of being beautiful, not so much for oneself, but for the sake of professional and social success. They claim to feel good and to be aware of their attractiveness and, in contrast to many others, they have not had surgical operations to remain beautiful. They talk of the time they devote to preserving their beauty—and implicitly of the fear, that their beauty and the associated self-esteem are merely transient. When the women thoughtfully gaze at their Polaroid selfies, they probably see themselves as they wish to be seen. They see the illusion they have created for themselves: forever young, forever attractive.
Hanna Arvela, Asylum, 2016, video, 1:28 min, film still. Courtesy: Hanna Arvela, AV-Arkki
In Hanna Arvela's
Asylum
, two ladies paddle up and down their respective lanes in an indoor pool, supported by swim rings, while talking about the dating app Tinder. One of them has just set up a profile to get to know men. She says that she has received plenty of matches, but that many of them are foreigners—but that's of no concern, since one needn't respond to them. If a Tinder user likes a person, he swipes the image to the right, if not, then to the left. If both users have swiped their pictures to the right, a match is made, and they may communicate via chat.
While the two ladies are working their way down the pool, they swim around human bodies floating in the water, pushing them aside as they go. How these floaters got into the pool and why, remains unanswered. But they seem to be taken for granted, perhaps like those that drowned in the Mediterranean, who were looking for asylum and made to vanish as quickly as they appeared by switching the TV channel, just like the "foreigners" on Tinder are made to disappear by swiping left. Everything considered, one wouldn't really want to bother oneself with all that.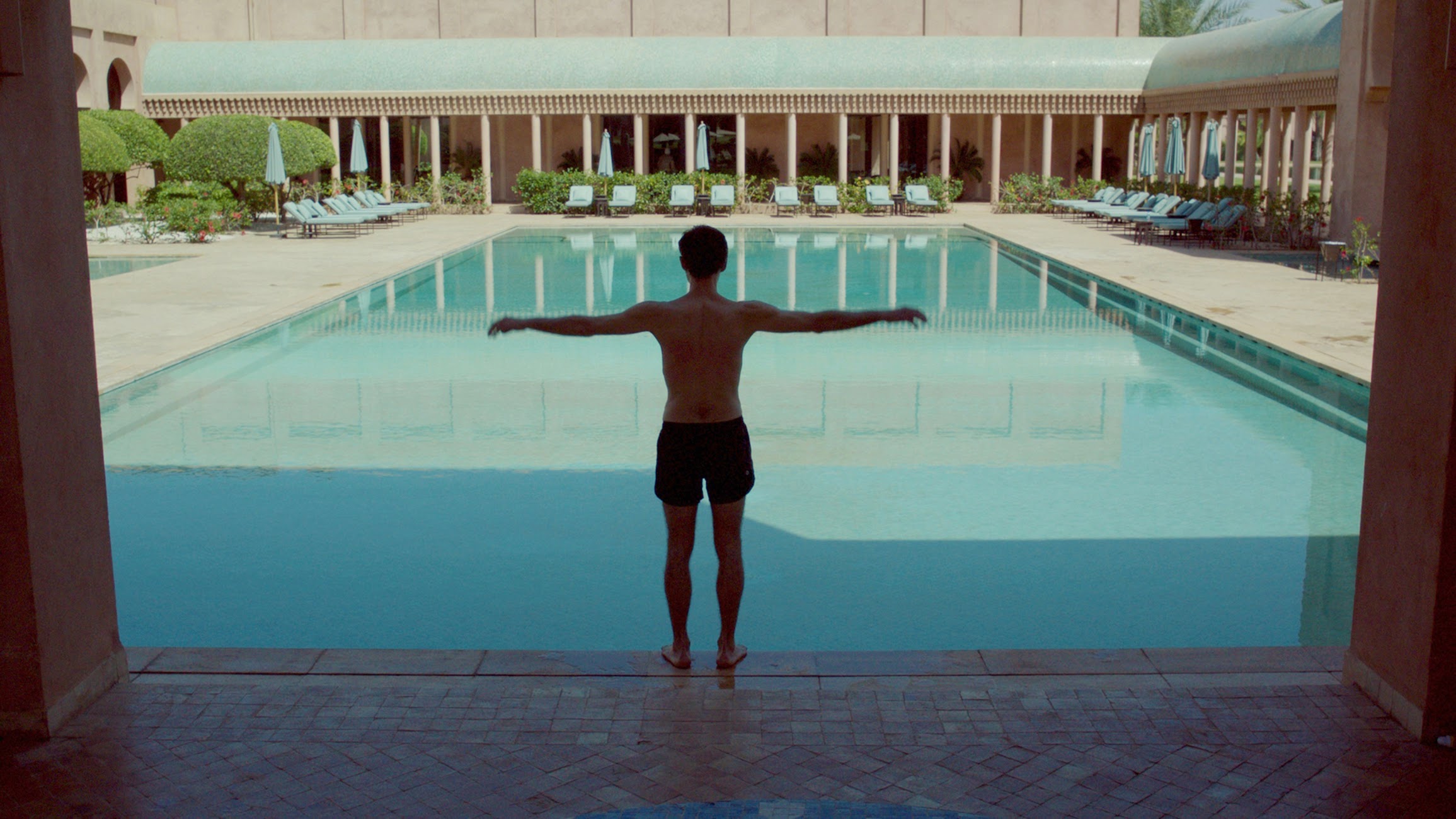 Rä di Martino,
Controfigura (Stand In)
, 2017, video, 76:00 min, film still. Courtesy: Rä di Martino
The pools of Marrakech are given their own programme. A countless number of pools have been built in and around the desert city in recent years to keep international jet setters happy and to insulate them from the coarse Moroccan reality behind high walls. In
Controfigura (Stand In)
Rä di Martino tells us about the making-of a remake, the process of making a film in which another film is re-enacted or translated. It is about the film drama
The Swimmer
from 1968, based on the short story of the same name (1964) by John Cheever. In this, the protagonist in his swimming trunks, Ned Merril, played by Burt Lancaster, decides to swim home by crossing all the pools that line up like a river along the way back to his family, his wife, his two daughters and his perfect life. During which he meets friends and acquaintances from the past, whose conversations sketch a picture of his past and his personality.
Rä di Martino's Ned, played by an Italian actor (Filippo Timi), is supposed to be swimming through the pools of Marrakech on his way home. Most of the time, however, we see his double (Corrado Sassi). A small film team joins him on the search for suitable pools, rehearsing the scenes to work out the camera angles in which the main actor will later play his role. Repeatedly these scenes are cut with the Italian leading actors or with Moroccan actors in between. The fiction of the actual film flashes up. Again we see the double, as he makes his way to the next pool under the blazing sun, through barren desert landscapes, along the dusty streets of the city, along the rough wall of the medina; surreal, barefoot, dressed only in swimming trunks, vulnerable.
It is a film within a film and one about filmmaking, about encounters between crew, foreigners and locals. Again and again, the question arises of the real, the absurd and the remake, as well as the role of the actor.
The Paris Commune was a revolutionary Parisian city council formed spontaneously in the spring of 1871, during the Franco-Prussian War. With the help of the National Guard and the workers, it made an attempt to run Paris according to socialist ideals, against the will of the central conservative government. France was to be transformed into a federation of sovereign communes, popular armament was to be introduced, equal rights for women were to be enforced, and further political and social regulations were to be made in the interests of the proletariat, which was living in abject poverty. The Paris Commune is considered the prime example of a genuine dictatorship of the proletariat.
After a few weeks however, government troops supported by Chancellor Bismarck and tolerated by the German besieging troops of Paris managed to crush the Communards in a number of bloody battles and put an end to the experiment. It was in the interest of both the German and French governments to eradicate this looming threat of democracy with members of the working class in France as quickly as possible. Alice Creischer's
Für Camille B.
recalls the Parisian Communards who, with the help of the Germans, were shot by their thousands or sent into exile to New Caledonia in the South Pacific. Creischer's own children reenact the shooting scenes in mime—repeatedly, playfully, innocently, silently. They are chained together and wear fragments of clothes and uniforms reminiscent of those of the Parisian revolutionaries. In between beachgoers, they sink into the sand of a fake South Sea paradise of "Tropical Islands, Europe's largest tropical vacation world". The scenes sometimes run forwards, sometimes backwards. The majority of the bathing visitors pay no attention to the shootings. Only a few children and some curious individuals throw furtive looks. Most of them do not notice anything or look away and continue to enjoy the atmosphere of their paradise.
And so we could steadily gather a little insight, as we swim from pool to pool.
OLAF STÜBER (*1962) lebt und arbeitet in Berlin. Er ist Kurator für zeitgenössische Kunst mit einem Schwerpunkt auf zeitbasierte Medien. Die Galerie Olaf Stüber (2001-2011) konzentrierte sich bereits 2003 auf das bewegte Bild und war damals eine der wenigen Galerien, die dazu beitrug, Künstlerfilm- und Videokunst auf dem deutschen Kunstmarkt zu etablieren. Im Jahr 2008 gründete er zusammen mit Ivo Wessel Videoart at Midnight und ist seit 2012 Herausgeber der Videoart at Midnight Edition. Olaf Stüber hält international Vorträge über Künstlerfilme und Videokunst im Kontext des Kunstmarktes, kuratiert Programme und Ausstellungen für Institutionen, Messen und Festivals, ist Berater für institutionelle und private Sammlungen und war Mitglied zahlreicher Jurys.

Schwimmen bis zur Erkenntnis
von Olaf Stüber


Den Großteil meiner freien Zeit als Kind und später auch als Jugendlicher habe ich in einem Schwimmbad verbracht. Nicht in einem privaten Bad, aber auch nicht in einem ganz ganz öffentlichen – in einem Vereinsbad. Das war eine behütete Welt. In Badebzw. Schwimmbekleidung waren wir alle gleich (na ja, mehr oder weniger), ob Sprösslinge von Arbeitern, Angestellten oder Kindern aus besseren Familien. Wobei es Letztere nicht so viele gab, weil diese sich wahrscheinlich eher an den Swimmingpools der elterlichen Einfamilienhäuser langweilten. Kinder mit Migrationshintergrund gab es nicht. Bis auf die Tochter des italienischen Eisdielenbesitzers. Die war sehr hübsch. Was zählte, war die Leistung im Becken: Entweder du warst eine gute Schwimmerin oder eine guter Schwimmer oder gar ein guter Wasserballer oder eben nicht. Viele der "ersten Male" fanden in diesem Bad statt: der erste Kuss, das erste Betrunkensein nach einem gewonnenen Turnier, die erste Zigarette, das erste gemeinsame Nacktduschen.
Die Welt spielte sich außerhalb ab. Nebenan zum Beispiel, hinter dem Heizhaus, durch Zaun und Stacheldraht getrennt, war das städtische Freibad. Dort drängten sich Familien aller Nationalitäten auf der Wiese am Imbiss und im Wasser. Lauter, turbulenter und aggressiver ging es da zu. Die Polizei musste damals zwar noch nicht kommen, aber viel hat oft nicht gefehlt. Auf dem Weg zum Schwimmverein waren die Baracken der "Gastarbeiter*innen". Man sah sie nie. Nur ihre Wäsche, die hing im Sommer immer vor dem Fenster. Sie blieben fremd.
Viele Jahre sind vergangen, viele Erfahrungen und Begegnungen haben den Horizont erweitert, vieles hat man dazugelernt. Die Welt hat sich seit damals verändert. Vieles bleibt einem aber fremd, und bei aller Neugier bleibt vieles doch auf der "anderen Seite des Zaunes". Die Liebe zu Schwimmbädern und Schwimmbecken blieb. Und so habe ich ein Programm zusammengestellt, in dem ich Pool an Pool gereiht habe zu einem Fluss, der mich nicht zurückbringt, woher ich komme, sondern weiterträgt.
In Monira Al Qadiris Film Diver gleiten Synchronschwimmerinnen schwerelos und elegant durch ein Schwimmbecken oder vielleicht auch offenes Gewässer und entfalten wie in einem Kaleidoskop ihre wunderbar vielfältigen Choreografien. Das Wasser ist dunkelblau, fast schwarz wie Öl, die Badeanzüge der Schwimmerinnen changieren durch eine diffuse kalte Lichtquelle in schillernden Farben, die an Benzinschlieren auf Wasseroberflächen erinnern. Der Soundtrack ist ein arabischer Männergesang. Ein seltsam rauer Kontrast, wenn man die Geschichte nicht kennt. Es handelt sich dabei um die Aufnahme eines Fijiri-Sängers eines Perlentauchbootes aus den 60er-Jahren. Vor Kuwaits Unabhängigkeit und bevor das Land zum größten Erdöl-Exporteur der Welt wurde, stellten Perlen einen ernstzunehmenden Wirtschaftszweig dar. Al Qadiris Großvater arbeitete noch als ein solcher Sänger. Mit seinen Liedern hatte er die Besatzung bei ihren langen Ausfahrten bei Laune zu halten. Diver ist ein sehr persönlicher Film, der für die Künstlerin eine Brücke schlägt zwischen den fast märchenhaft anmutenden Familiengeschichten ihrer Kindheit, von einer alten Zivilisation vor der Entdeckung des Öls und der heutigen arabischen Welt, die durch den Zusammenprall von schwindelerregendem Wohlstand und Globalisierung einerseits, und alten Traditionen und konservativen, religiösen Einflüssen andererseits in massive gesellschaftliche Turbulenzen geraten ist.

Corinna Schnitts Arbeit Living a beautiful life könnte auch "Die Langeweile am eigenen Pool" heißen. Denn verglichen mit dem bunten Leben in einem öffentlichen Schwimmbad ist der Einfamilienpool entweder dekadent oder langweilig und in der Regel einer kleinen meist Weißen Oberschicht vorbehalten. Um Langeweile und eine Weiße Oberschicht geht es auch in Schnitts Film: Ein gutaussehendes Paar drapiert sich einzeln in einer Villa oberhalb von Los Angeles. In der edlen Designerküche, in der begehbaren Garderobe oder eben am Swimmingpool mit Blick über die Stadt erzählen sie, wie wunderbar ihr Leben ist, wie erfolgreich sie sind, wie wohlhabend, fit und gut geraten ihre Kinder sind. Je länger man den beiden zuhört, umso seltsamer wird die Szenerie. Das Glück wird öder, einsamer und leerer. Das erschreckende daran ist: Corinna Schnitt hat den beiden Protagonist*innen die Vorstellungen und Zukunftswünsche von Jugendlichen aus Los Angeles in den Mund gelegt. Vielleicht geschnitten und neu zusammengesetzt erscheint die Fiktion einer heilen und perfekten Welt widerspiegelnd, die so wenig Wirklichkeit ist wie die Prologszene der Videoarbeit: ein emblematischer ostdeutscher Märchenfilm (DEFA), in dem nackte Kinder mit Tierbabys auf einer Waldwiese spielen.


Julika Rudelius,
Forever (configuratie),
2006, 2 synchronized videos, 16:40 min, film still. Courtesy: Julika Rudelius

Ebenso exklusiv geht es in den Gärten der luxuriösen Privatvillen in den Hamptons zu, in der Sommerfrische der New Yorker High Society. In der Zwei-Kanalinstallation Forever (configuratie) von Julika Rudelius posen, einander abwechselnd, fünf offensichtlich privilegierte, gut gekleidete Ladies um die sechzig und älter an ihren einsamen, leise plätschernden Pools auf Liegestühlen oder auf dem Sprungbrett. Sie flanieren durch den Garten und knipsen Selbstporträts mit Polaroidkameras und Selbstauslösern. Sie reflektieren über die Frage der eigenen Schönheit und des damit verbundenen Glücks. Trotz der Betonung, dass die innere Schönheit doch das Wesentliche sei, geht es immer wieder um das Äußere. Sie erzählen von der Wichtigkeit, schön zu sein, weniger für sich selbst, sondern um des beruflichen und gesellschaftlichen Erfolgs willen. Sie behaupten, sich gut zu fühlen und sich ihrer Attraktivität bewusst zu sein und selbst, im Gegensatz zu vielen anderen, keine chirurgischen Eingriffe haben machen lassen, um schön zu bleiben. Sie erzählen von der Zeit, die sie dem Erhalt ihrer Schönheit widmen – und in allem erzählen sie von der Angst der Vergänglichkeit ihrer Schönheit und dem damit verbundenen Selbstwertgefühl. Wenn die Frauen versonnen ihre selbst geschossenen Polaroids anschauen, sehen sie sich wohl so, wie sie sich wünschen, gesehen zu werden. Sie sehen ihre selbst geschaffene Illusion: für immer jung, für immer attraktiv.

In Hanna Arvelas Asylum paddeln zwei Damen unterstützt durch Schwimmringe ihre Bahnen im Hallenbad und unterhalten sich über die Dating-App Tinder. Die eine hat gerade ein Profil eingerichtet, um Männer kennenzulernen. Sie erzählt, dass sie zahlreiche übereinstimmende Matches bekommen hätte, dass es sich dabei aber um viele Ausländer handele. Aber das wäre ja kein Problem, man müsse ja nicht darauf eingehen. Gefällt einem Tinder-Nutzer eine Person, so wischt er nach rechts, wenn nicht, nach links. Haben zwei Nutzer ihre Bilder gegenseitig nach rechts gewischt, entsteht ein Match, und sie können über einen Chat kommunizieren.
Während die beiden Damen sich durch das Becken arbeiten, umschwimmen bzw. drücken sie dabei im Wasser treibende menschliche Körper beiseite. Wie und warum diese Wasserleichen ins Becken gekommen sind, bleibt offen. Sie scheinen aber selbstverständlich zu sein, vielleicht wie alle die im Mittelmeer Ertrunkenen, die auf der Suche nach Asyl waren und die durch den Wechsel des Fernsehkanals schnell wieder verschwinden, so wie die "Ausländer" auf Tinder durch ein Wischen schnell wieder weg sind, weil: Beschäftigen möchte man sich mit all dem ja eigentlich nicht.

Ein eigenes Programm erhalten die Pools von Marrakesch. Unzählige sind in den letzten Jahren in und um die Wüstenstadt herum entstanden, um internationale Jetsetter bei Laune zu halten und mit hohen Mauern von der rauen, marokkanischen Wirklichkeit abzuschotten.
Rä di Martino erzählt in Controfigura (Stand In) das Making-of eines Remakes, also den Entstehungsprozess eines Films, in dem ein anderer Film nachgestellt bzw. übersetzt wird. Es geht um das Filmdrama The Swimmer von 1968, basierend auf der gleichnamigen Kurzgeschichte (1964) von John Cheever. Darin beschließt der in Badehose gekleidete Protagonist Ned Merril, gespielt von Burt Lancester, nach Hause zu schwimmen, indem er alle Pools durchquert, die sich auf seinem Weg zurück zu seiner Familie, seiner Frau, seinen beiden Töchtern und seinem perfekten Leben wie ein Fluss aneinanderreihen. Dabei begegnet er Freunden und Bekannten aus seiner Vergangenheit, die in den Gesprächen ein Bild seiner Persönlichkeit skizzieren.
Rä di Martinos Ned, von einem italienischen Schauspieler (Filippo Timi) dargestellt, soll die Pools Marrakeschs auf seinem Weg nach Hause durchschwimmen. Die meiste Zeit sehen wir jedoch sein Lichtdouble (Corrado Sassi). Ein kleines Filmteam ist mit ihm auf der Suche nach den passenden Pools. Sie proben die Szenen für die Kameraeinstellung, in denen später der Hauptdarsteller seine Rolle spielt. Immer wieder werden diese Drehszenen mit dem italienischen Hauptdarsteller aber auch mit marokkanischen Schauspielern dazwischen geschnitten. Die Fiktion des eigentlichen Films blitzt dabei auf. Dann wieder sehen wir das Lichtdouble, wie er auf dem Weg zum nächsten Pool läuft, unter gleißender Sonne, durch karge Wüstenlandschaften, auf den staubigen Straßen der Stadt, an der rauen Mauer der Medina entlang; surreal, barfuß, nur mit Badehose bekleidet, verletzlich.
Es handelt sich um einen Film im Film und über das Filmemachen selbst, über Begegnungen zwischen der Crew, Ausländer*innen und Einheimischen. Immer wieder stellen sich Fragen nach dem Realen, dem Absurden, dem Remake und nach der Rolle des Schauspielers.


Alice Creischer,
Für Camille B.
, 2015, HD video, 24:40 min, film still. Courtesy: Alice Creischer, KOW Berlin

Die Pariser Kommune war ein im Frühjahr 1871 während des Deutsch-Französischen Krieges spontan gebildeter, revolutionärer Pariser Stadtrat, der mit Hilfe der Nationalgarde und der Arbeiterschaft gegen den Willen der konservativen Zentralregierung versuchte, Paris nach sozialistischen Vorstellungen zu verwalten. Frankreich sollte in einen Bund souveräner Gemeinden (Kommunen) umgewandelt, die Volksbewaffnung eingeführt, die Gleichberechtigung der Frau durchgesetzt und weitere politische und soziale Regelungen im Interesse des in bitterer Armut lebenden Proletariats vorgenommen werden. Die Pariser Kommune gilt als das Beispiel für eine wirkliche Diktatur des Proletariats. Nach wenigen Wochen jedoch gelang es den Truppen der Regierung mit der Unterstützung des Reichskanzlers Bismarck und durch die Duldung der deutschen Belagerungstruppen von Paris, die Kommunarden in blutigen Kämpfen niederzuschlagen und das Experiment zu beenden. Es lag sowohl im Interesse der deutschen als auch der französischen Regierung, dem Spuk einer Demokratie, vertreten durch die Arbeiterklasse in Frankreich, mit allen Mitteln schnellst möglich den Garaus zu machen.
Alice Creischers Für Camille B. erinnert an die Pariser Kommunarden, die mit Hilfe der Deutschen zu Tausenden erschossen oder in die Verbannung nach Neukaledonien im Südpazifik geschickt wurden. Creischers eigene Kinder spielen pantomimisch die Erschießungsszenen nach, fortwährend, spielerisch, unschuldig, lautlos. Sie sind aneinandergekettet und stecken in Kleidungsund Uniformfragmenten, die an die der Pariser Revolutionäre erinnern, und sacken inmitten von Badebesuchern in den Sand eines falschen Südseeparadieses – in "Tropical Island, Europas größter tropischer Urlaubswelt". Die Szenen laufen mal vorwärts, mal rückwärts. Der Großteil der Badebesucher schenkt den Erschießungen keine Aufmerksamkeit. Nur ein paar Kinder und wenige Neugierige schauen verstohlen hin. Die allermeisten bemerken nichts oder schauen weg und genießen die Atmosphäre ihres Paradieses.

Und so könnten wir Erkenntnis sammelnd weiterschwimmen, von einem Pool zum nächsten.