Marco Barotti: The Egg (2019-2021). Photo: Si Wachsmann.
Interview with Pauline Doutreluingne
and Keumhwa Kim

15.08.2021
Carola Uehlken
---
Click here to see the documentation about the exhibition on Vimeo.
---
CU: This year you curated the exhibition "Terrestrial Assemblage" in the Berlin rainwater retention basin, which was originally created for the former airport on Tempelhofer Feld. The exhibition looked at the connections between borderzones, biodiverse regions and the human intervention these areas. What role did the rainwater retention basin play as an exhibition venue?
KK: The rainwater retention basin at the Floating University, which was already built in the 1930s for Tempelhof Airport and was removed from urban influence for over 80 years, is now a symbolic place for the symbiotic relationship between nature and culture in urban space: created by humans, nature has reclaimed the place to some extent. With various plants, insects and birds on and in the water, a kind of third landscape has emerged. We found this place very exciting from the beginning. Its development history and existence as a natural and cultural space reflect the complex relationships and social conflicts of interest between the city, its inhabitants and environmental activists. With eleven artistic positions, our exhibition tried to reflect upon the relationship of people to the earth (terra) from different perspectives. The rainwater retention basin is not only a symbolic place, but also a fully functioning public infrastructure that collects rainwater and feeds it into the city's water system. This living exhibition site, always in flux depending on the weather, was an anchor point and projection surface where the artistic ideas on shifting boundaries through nature and human intervention could be presented sensually and metaphorically.
CU: "Be Water my Friend" - Where does the current urge to organise curatorial projects in, on and over water come from?
PD: It's true that a lot of curatorial projects are dealing with water at the moment. And not only on water or in water, but around the theme of our natural environment in general, because we live in a time when the issue of climate change has become extremely urgent and present. I am interested in spaces where you are in direct contact with anthropocene changes, or spaces that tell a story. I find it exciting to match space and content and to create a direct dialogue, between the viewer, the artwork and the environment. In this way we can create experiences, and of course water is an aesthetic element that we can experiment with. It also puts us curators in a very time-consuming and precarious situation, because water cannot be controlled and especially when you also work with technology, it becomes very difficult. But it is exactly this challenge that makes it exciting and also allows for magical moments.
KK: I agree with Pauline, the curatorial practice in nature, especially in or around water, brings a completely different approach: Indeed it challenges you to examine more intensively the socio-economic, political as well as ecological changes of our time. You have to observe the infrastructure and its specific genesis and you are always confronted with the unpredictable. You get in touch directly with communities, react to the conditions surrounding the place, the nature. In our case the water brought us as artists and curators back to the immovable reality of our present.
CU: In your exhibition and especially in the symposium "Terrestrial Assemblage: Ecological Thinking in Border Zones", one thing has become clear: The emergence of border zones, such as the Iron Curtain in Europe or the DMZ Zone dividing Korea in two, has provided regions where nature could recover and a variety of animals and plants could find retreats. Water scarcity as one of the major current problems. I would like to mention especially the conversation with Nadav Tal, who as a local hydrologist in the Middle East has been trying to mediate between the political parties from Isreal, Palestine and Jordan for years, and organises collective and artistic projects. You discussed his perspective in your symposium and contextualised his practise with a global context. Which ecologies of water did you address in the exhibition and what did you take away from the invited speakers?
KK: At the symposium it became very clear that water plays a fundamental role in border areas like the DMZ on the Korean peninsula and in the Middle East. It very concretely ensures that the environment is brought back to its natural origin and that biodiversity is revitalised, or that political and social borders are hardened or dissolved and liquefied. The wetlands as well as the seabed at the Demilitarised Zone in Korea, where non-military access has been prohibited since the Korean War 70 years ago, as the presentations of the Seoul office of Hanns-Seidel-Foundation and the DMZ Ecology Institute showed, are among the areas with the greatest biodiversity worldwide. Many rare birds, marine animals as well as plants have found their habitat there. The birds (cranes to name but one) are the only creatures that can "cross" the borders between North and South Korea at any time, making many people in Korea wistful about the division of the country and dreaming of reunification. The presentation by EcoPeace (Nadav Tal) showed how water can serve as an ecological and political tool to rethink the previous policy of compartmentalisation and work together across borders to achieve more sustainable and equitable outcomes, in this case between Israel and Jordan.
Water has found inspiration among the artists in our exhibition in different formats and content: For Ana Alenso, water was a driving force for her site-specific installation, illustrating the cycle between nature and humans destructive interventions, while Mischa Leinkauf's video work, in which he subverts borders on the ocean floor, represents an absolute freedom, overriding politically motivated demarcations. Han Seok Hyun, who artificially reproduced a cloud by interfering with the water system on site, epitomises man's seemingly insatiable need to manipulate nature.
Anne Dyk Hee Jordan: Making Kin 2.1 (2020-2021), site-specific pond installation with living ecosystem, robotic crab and drawing, printed on banner. Photo: Si Wachsmann.
CU: Can curating in natural habitats be a future perspective in which being-in-the-world is given new scope, as opposed to exhibitions in art spaces?
PD: That's an interesting question. Museum spaces, especially the white cube, have their origins in the Western and modernist context. To be honest, I find this way of showing art outdated and even a bit boring. When we talk about future-oriented shows, it is more important than ever to include our natural habitats. I would even say that not only "natural" spaces are needed, but also spaces that pose a challenge, so that the artworks can ask questions about our living environment and also appeal to a broader audience than just the usual museum visitors.
Hans Haacke summed it up very well: "The world of art is not a world apart". Outside Europe and North America, the white cube has always been an exclusive exhibition concept introduced by white Europeans. In non-European cultures, it was never the case that the space had to be neutral in order to show art. The idea that the upscale, neutral and modern colour is White is again related to the Eurocentric view of the world. The choice of an exhibition space is very important in the curatorial process.
KK: The Corona pandemic also ultimately challenged and changed our perspective on curating, not only to work in a closed, museal surrounding or a gallery space, but more in public space, in nature and in communities. But for that we need more social acceptance and less talking to authorities. We have noticed that exhibiting in natural spaces has not only brought fascination, but also many official restrictions. We think we definitely need to start a discourse on what environmentally friendly exhibiting in natural spaces means in terms of sustainability of these places and practical implementation.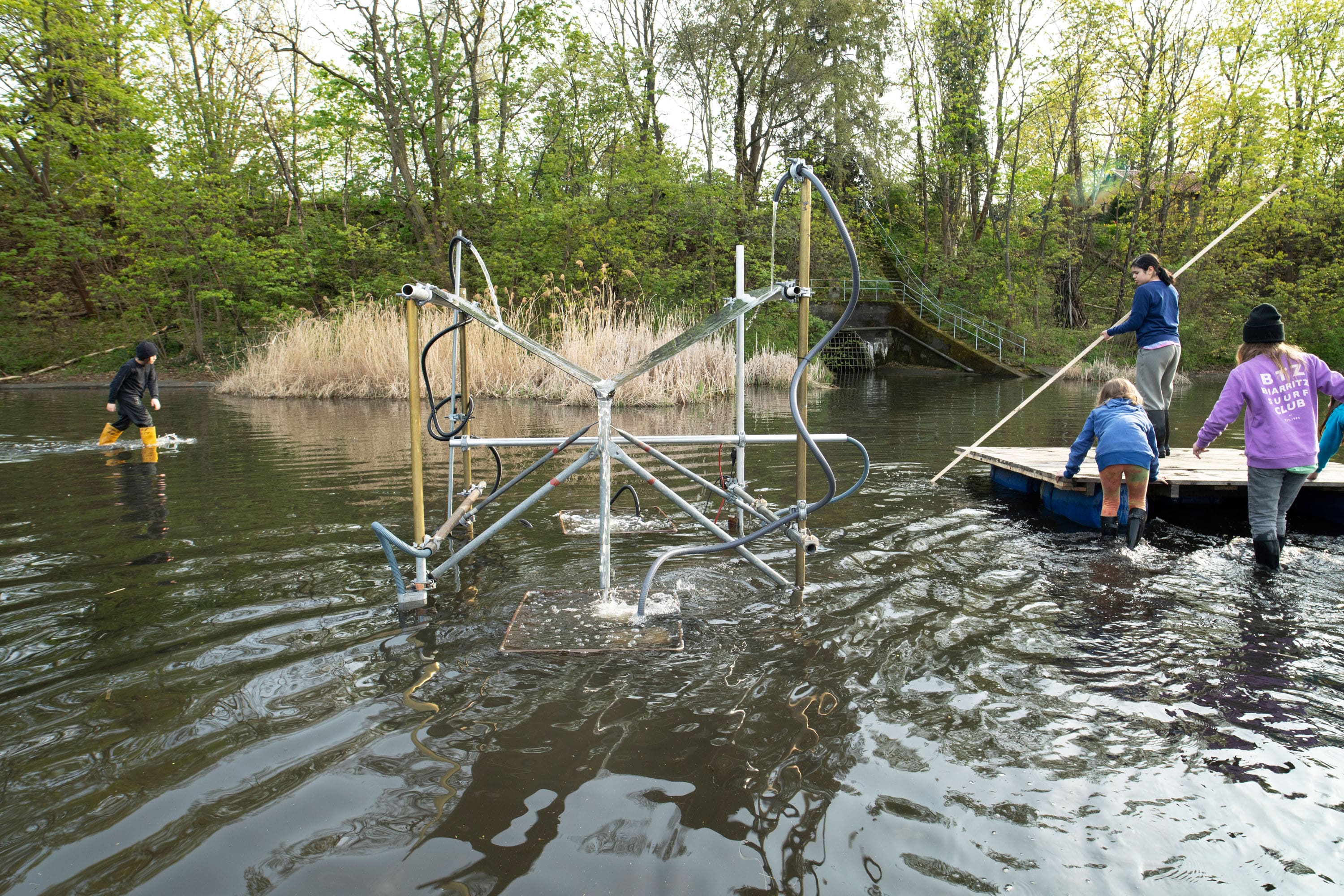 Ana Alenso: Liquid Agreement (2021), scaffolding parts, hoses, steel, nickel and diesel nozzle and water. 150 x 100 x 100 cm. Photo: Si Wachsmann.
---
Short bios:
PAULINE DOUTRELUINGNE is a curator based in Berlin. With her work, she tries to stimulate cultural and ecological differentiations and to deconstruct social ideas stemming from colonial thinking. Her curatorial projects are dialogues and researches for an imaginative thinking. Her recent curated exhibitions include "A Handful of Dust" (2020), Ehrenhalle, Berlin, "Interiors of Being" (2019), "Karma Ltd Extended" (2018), Acud Macht Neu, Berlin, "The Conundrum of Imagination, on the paradigm of exploration and discovery" (2017), Leopold Museum, Vienna; and "Agency of Living Organisms" (2016), Tabakalera Institute for Contemporary Culture, San Sebastian.
KEUMHWA KIM is a freelancing curator based in Berlin; in 2014 she founded an office "Keum Art Projects" for curatorial strategies and artistic exchange. Based on transcultural discourses, she brings together artists, curators and scholars from Korea and Germany and presents transdisciplinary practices in the form of exhibitions, art projects (art in public space), publications or workshops. Her focus lies on artistic strategies that start from anthropocene-critical, specifically environmental and socio-political perspectives. Recent projects include "Yin Yang Su Wha" (2017), "Playing with Eternity" (2018), "The Third Country" (2019-present), "Nature of Action" (2019) and "We After 1989" (2020).
More info on the exhibition and symposium here:
www.terrestrialassemblage.com
Interview mit Pauline Doutreluingne und Keumhwa Kim

15.08.2021
Carola Uehlken
---
Hier klicken, um die Dokumentation zur Ausstellung auf Vimeo zu sehen.
---

CU: In diesem Jahr habt ihr die Ausstellung "Terrestrial Assemblage" im Berliner Regenwasserauffangbecken, das damals für das Tempelhofer Feld entstanden ist, veranstaltet. Die Ausstellung beschäftigte sich mit den Zusammenhängen zwischen Grenzgebieten, biodiversen Regionen und dem menschlichen Eingriff in diese. Welche Rolle hat das Regenwasserauffangbecken als Ausstellungsort gespielt?

KK: Das Regenwasserauffangbecken in der Floating University, das bereits in den 1930er Jahren für den Flughafen Tempelhof gebaut wurde, und über 80 Jahre lang dem städtischen Einfluss entzogen war, ist heute ein symbolischer Ort für das symbiotische Verhältnis zwischen Natur und Kultur im urbanen Raum: Geschaffen vom Menschen hat sich die Natur den Ort ein Stück weit zurückerobert. Mit diversen Pflanzen, Insekten und Vögeln am und im Wasser ist eine Art dritte Landschaft entstanden. Diesen Ort fanden wir von Anfang an sehr spannend. Seine Entwicklungsgeschichte und Existenz als Natur- und Kulturraum spiegeln die komplexen Beziehungen und gesellschaftlichen Interessenkonflikte zwischen Stadt, ihren Bewohner*innen und Umweltaktivist*innen wieder. Unsere Ausstellung versuchte mit elf künstlerischen Positionen das Verhältnis von Menschen zur Erde (terra) aus verschiedenen Perspektiven zu reflektieren. Das Regenwasserauffangbecken war dabei nicht nur ein symbolischer Ort, sondern auch eine voll funktionsfähige, öffentliche Infrastruktur, die das Regenwasser auffängt und in das städtische Kanalsystem einleitet. Dieser je nach Wetterlage stets im Wandel befindliche, lebendige Ausstellungsort war Ankerpunkt und Projektionsfläche, an dem die künstlerischen Ideen zu Grenzverschiebungen durch die Natur und den menschlichen Eingriff sinnlich und metaphorisch präsentiert werden konnten.


Han Seok Hyun: My Head in the Clouds (2021), ephemeral cloud sculpture: rainwater, high-pressure pump, electricity, water filter. Photo: Han Seok Hyun.

CU: "Be Water my Friend" - Woher kommt der momentane Drang, kuratorische Projekte in, auf und über Wasser zu organisieren?

PD: Es stimmt, dass sich momentan viele kuratorische Projekte mit dem Thema Wasser beschäftigen. Und zwar nicht nur auf dem Wasser oder im Wasser, sondern rundum das Thema unserer natürlichen Umwelt im Allgemeinen, denn wir leben in einer Zeit, in der das Thema Klimawandel äußerst dringlich und präsent geworden ist. Ich interessiere mich für Räume, in denen man in direktem Kontakt mit anthropozänen Veränderungen steht, oder für Räume, die eine Geschichte erzählen. Ich finde es spannend, Raum und Inhalt aufeinander abzustimmen und sozusagen einen direkten Dialog zwischen Betrachter*in, Kunstwerk und Umgebung herzustellen. Auf diese Weise kann man ein Erlebnis schaffen, und natürlich ist Wasser ein ästhetisches Element, mit dem man experimentieren kann. Es bringt uns Kurator*innen auch in eine sehr zeitaufwändige und prekäre Situation, da Wasser nicht kontrolliert werden kann und vor allem, wenn man auch mit Technologie arbeitet, wird es sehr schwierig. Aber genau diese Herausforderung macht es spannend und erlaubt magische Momente.

KK: Ich stimme Pauline zu, die kuratorische Praxis in der Natur, speziell im oder am Wasser, bringt eine völlig andere Herangehensweise mit sich, ja fordert es geradezu heraus, den sozioökonomischen, politischen sowie ökologischen Wandel unserer Zeit intensiver zu untersuchen. Du musst die Infrastruktur und ihre spezifische Genese beobachten und du bist stets mit dem Unvorhersehbaren konfrontiert. Du kommunizierst mit den Communities, reagierst auf die den Ort umgebenen Voraussetzungen, die Natur, in unserem Fall holte uns als Künstler*innen und Kurator*innen das Wasser in die unverrückbare Realität unserer Gegenwart zurück.

CU: In Eurer Ausstellung und vor allem auch in dem dazu entstandenen Symposium "Terrestrial Assemblage: Ecological Thinking in Border Zones" ist eines klar geworden: Das Entstehen von Grenzgebieten, wie zum Beispiel der Eiserne Vorhang in Europa oder der DMZ Zone, die Korea in zwei teilt, hat für Regionen gesorgt, in denen sich Natur erholen und eine Vielzahl von Tieren und Pflanzen Rückzugsorte finden konnten. Wasserknappheit als eines der großen momentanen Probleme der nahen Zukunft (vor allem im mittleren Osten im Gespräch mit Nadav Tal, der als ortsansässiger Hydrologe seit Jahren zwischen den politischen Parteien aus Israel, Palästina und Jordanien zu vermitteln sucht, und kollektive und künstlerische Projekte organisiert) wurde in eurem Symposium besprochen und in einen globalen Gesamtzusammenhang gebracht. Welche Ökologien des Wassers habt ihr in der Ausstellung angesprochen, und was habt ihr von den eingeladenen Sprecher*innen mitgenommen?

KK: Auf dem Symposium wurde sehr deutlich, dass das Wasser in Grenzgebieten wie der DMZ auf der koreanischen Halbinsel und im Nahen Osten eine elementare Rolle spielt. Es sorgt ganz konkret dafür, die Umwelt in ihren natürlichen Ursprung zu bringen und die Biodiversität zu beleben, oder politische und gesellschaftliche Grenzen zu verhärten oder aber auch aufzulösen und zu verflüssigen. Die Feuchtgebiete sowie der Meeresuntergrund an der Demilitarisierte Zone in Korea, wo nicht-militärischer Zutritt seit dem Koreakrieg vor 70 Jahren verboten ist, wie die Vorträge des Seoul-Büros der Hanns-Seidel-Stiftung und des DMZ Ecology Institute zeigten, gehören zu den Gebieten mit der größten biodiversen Artenvielfalt weltweit. Dort haben viele seltene Vögel, Meerestiere sowie Pflanzen ihren Lebensraum gefunden. Die Vögel (zum Beispiel Kraniche) sind die einzigen Lebewesen, die die Grenzen zwischen Nord- und Südkorea jederzeit "überschreiten" können, viele Menschen in Korea in Wehmut über die Teilung des Landes versetzen und von der Wiedervereinigung träumen lassen. Der Vortrag von EcoPeace (Nadav Tal) zeigte, wie das Wasser als ökologisches und politisches Instrument dienen kann, um die bisherige Politik der Abschottung zu überdenken und grenzüberschreitend zusammen zu arbeiten, um nachhaltigere und gerechtere Ergebnisse zu erzielen, in diesem Fall zwischen Israel und Jordanien.

Das Wasser hat bei den Künstler*innen unserer Ausstellung in unterschiedlichen Formaten und Inhalten ihre Inspiration gefunden: Für Ana Alenso war das Wasser für ihre ortsspezifische Installation eine treibende Kraft, die den Kreislauf zwischen Natur und den menschlichen zerstörerischen Eingriff veranschaulicht, während die Videoarbeit von Mischa Leinkauf, in der er Grenzen auf dem Meeresgrund unterwandert, eine absolute Freiheit darstellt, und politisch motivierte Grenzziehungen außer Kraft setzt. Han Seok Hyun, der ein Wolkenbild durch den Eingriff in das Wassersystem vor Ort künstlich reproduziert, versinnbildlicht das scheinbar unstillbare Bedürfnis des Menschen, die Natur manipulieren zu wollen.


Ines Doujak, Untitled (2014), digital print, banner. Courtesy of the artist. Photo: Pauline Doutreluingne.

CU: Kann das Kuratieren in natürlichen Lebensräumen eine Zukunftsperspektive sein, in der ein In-der-Welt-sein neue Spielräume gewinnt, im Gegensatz zu Ausstellungen in Kunsträumen?

PD: Das ist eine interessante Frage. Museumsräume, insbesondere der White Cube, haben ihren Ursprung im westlichen und modernistischen Kontext. Um ehrlich zu sein, finde ich diese Art, Kunst zu zeigen, veraltet und sogar etwas langweilig. Wenn wir von einer zukunftsorientierten Gestaltung sprechen, ist es wichtiger denn je, unsere natürlichen Lebensräume einzubeziehen. Ich würde sogar sagen, dass es nicht nur "natürliche" Räume braucht, sondern auch Räume, die eine Herausforderung darstellen, damit die Kunstwerke Fragen zu unserer Lebensumwelt stellen und auch ein breiteres Publikum als nur die gängigen Museumsbesucher*innen ansprechen können.
The world of art is not a world apart, hat Hans Haacke sehr schön zusammengefasst. Außerhalb Europas und Nordamerikas war der White Cube immer nur ein exklusives Ausstellungskonzept, eingeführt vom weißen Europäer. In außereuropäischen Kulturen war es nie so, dass der Raum neutral sein musste, um Kunst zu zeigen. Die Idee, dass die gehobene, neutrale und moderne Farbe Weiß ist, hängt wiederum mit dem eurozentrischen Blick auf die Welt zusammen. Die Auswahl eines Ausstellungsraumes ist sehr wichtig im kuratorischen Prozess.

KK: Auch die Corona-Pandemie hat letztlich unsere Perspektive des Kuratierens herausgefordert und geändert, nicht nur in einem geschlossenen, musealen Raum oder Galleryspace zu arbeiten, sondern mehr im öffentlichen Raum, in der Natur und in Communities. Dafür brauchen wir aber mehr gesellschaftliche Akzeptanz und weniger Gespräche mit Behörden. Wir haben festgestellt, dass das Ausstellen in Naturräumen nicht nur Faszination, sondern auch viele behördliche Einschränkungen mit sich gebracht hat. Wir finden, wir müssen unbedingt einen Diskurs über die Frage starten, was umweltfreundliches Ausstellen in Naturräumen hinsichtlich der Nachhaltigkeit dieser Orte und der praktischen Umsetzung bedeutet.

---

Short bios:

PAULINE DOUTRELUINGNE ist als Kuratorin in Berlin tätig. Mit ihrer Arbeit versucht sie kulturelle und ökologische Differenzierungen anzuregen und aus kolonialem Denken stammende gesellschaftliche Ideen zu dekonstruieren. Ihre kuratorischen Projekte sind Dialoge und Recherchen für ein ideenreiches Denken. Zu ihre jüngsten kuratierten Ausstellungen gehören A Handful of Dust (2020), Ehrenhalle, Berlin, Interiors of Being (2019), Karma Ltd. Extended (2018), Acud Macht Neu, Berlin, The Conundrum of Imagination, über das Paradigma der Erforschung und Entdeckung (2017), Leopold Museum, Wien; und Agency of Living Organisms (2016), Tabakalera-Institut für zeitgenössische Kultur, San Sebastian.

KEUMHWA KIM ist freie Kuratorin; 2014 hat sie ein Büro Keum Art Projects für kuratorische Strategien und künstlerischen Austausch mit Sitz in Berlin gegründet. Ausgehend von transkulturellen Diskursen bringt sie Künstler*innen, Kurator*innen und Wissenschaftler*innen aus Korea und Deutschland zusammen und präsentiert transdisziplinäre Praktiken in Form von Ausstellungen, Kunstprojekten (Kunst im öffentlichen Raum), Publikationen oder Workshops. Ihr Fokus liegt auf künstlerischen Strategien, die von anthrophozän-kritischen, spezifisch umweltpolitischen und gesellschaftspolitischen Perspektiven ausgehen. Zu den jüngsten Projekten gehören u.a. Yin Yang Su Wha (2017), Spiel mit der Ewigkeit (2018), Das Dritte Land (seit 2019), Nature of Action (2019) und Wir nach 1989 (2020).

Mehr Infos zur Ausstellung und zum Symposium hier:

www.terrestrialassemblage.com



photo: Hulda Ros Gudnadottir
Ghost Net
13.08.2021
Leonie Hugendubel
A ghost net arrived at the exhibition. Once floating and diving in the cold and salty waters of the Atlantic, it was stranded and blended into the green-brown, gray-yellow-blue shore of Iceland's north until it was found a month ago and transported to Berlin, to Künstlerhaus Bethanien. On July 17th, the artist Hulda Ros Gudnadottir searched for and found the ghost net in Kollafjarðarnes, a fjord on the eastern side of Iceland's West Fjords
[1]
. The net was moved from Strandir to the main road with the help of three people from Worldwide Friends and Ragnar, a farmer from Heydalsá. Again and again they washed the ghost net in the water. After a night at the school Reykjaskoli, the net and the artist, Hulda and the ghost, drove towards Reykjavik, the washed net drying in the driving wind. Many hands helped the artist there to straighten and clean the ropes: the curator Helga Oskarsdótti, Eduardo from Venezuela and the art-loving Hekla. The net was boxed on July 23rd and shipped the next day. On August 14, the box arrived at Künstlerhaus Bethanien. The ghost net now lies as part of Hulda Ros Gudnadottir's work in the exhibition Swimming Pool - Troubled Waters.
A ghost net is a fishing net that has been lost or abandoned in the ocean. The nets floating and lying in the sea or found on coasts continue to function as uncontrolled traps for marine wildlife. Animals get caught and injured in the cords and lines. According to the Food and Agriculture Organization of the United Nations (FAO) up to 25,000 nets sink each year in European waters alone
[2]
. The nets are partially plastic and divide into small particles that do not dissolve but become part of the food chain as microplastics
[3]
. According to the World Wide Fund for Nature (WWF), ghost nets accounted for more than forty percent of the giant Great Pacific Garbage Patch in 2018
[4]
.
Hulda Ros Gudnadottris works with the aesthetics of the harbor and those working there. The Ghost Net points not only to the impact of the fishing industry on the environment, but also to the effort and labor involved in transporting and cleaning (the net and the environment from the net) by the artist.
---
[1]
https://
www.instagram.com/p/CRbN6AuAHd7/
[2]
https://
www.greenpeace.de/sites/www.greenpeace.de/files/publications/160507_greenpeace_factsheet_geisternetze.pdf
[3]
https://www.umsicht.
fraunhofer.de/content/dam/umsicht/de/dokumente/forschung-fuer-markt/kunstoffe-in-umwelt/wwf-studie-verlorene-fischernetze-umsicht.pdf
[4]
https://
www.worldwildlife.org/stories/our-oceans-are-haunted-by-ghost-nets-why-that-s-scary-and-what-we-can-do--23
---
photo: Valeria Schulte-Fischedick
Geister-netz
13.08.2021
Leonie Hugendubel
In der Ausstellung ist ein Geisternetz eingetroffen. Einst in den kalten, salzigen Gewässern des atlantischen Ozeans schwimmend und tauchend, den Fischenden abhanden gekommen, strandete es als Teil der grün-braunen, grau-gelb-blauen Landschaft des isländischen Nordens, bis es vor einem Monat gefunden wurde und nach Berlin, ins Künstlerhaus Bethanien transportiert wurde.

Die Künstlerin Hulda Ros Gudnadottir suchte und fand das Netz am 17. Juli in Kollafjarðarnes, einem Fjord an der östlichen Seite der Westfjorde von Island [1]

.

Das Netz wurde mit Hilfe von drei Personen von Worldwide Friends und Ragnar, einem Bauern aus Heydalsá, aus dem Gebiet Strandir zur Hauptstraße geschafft. Wieder und wieder wuschen sie das Geisternetz im Wasser. Nach einer Nacht in der Schule Reykjaskoli, fuhren das Netz und die Künstlerin, Hulda und der Geist, gewaschen und im Fahrtwind trocknend Richtung Reykjavik. Viele Hände halfen dort beim Richten und Reinigen der Seile: die Kuratorin Helga Oskarsdótti, Eduardo aus Venezuela und die kunstliebende Hekla. Das Netz wurde am 23. Juli in eine große Kiste verpackt und am nächsten Tag versendet. Am 14. August traf die Box mit dem Fund im Künstlerhaus ein und liegt nun als Teil von Hulda Ros Gudnadottirs Arbeit in der Ausstellung Swimming Pool - Troubled Waters.



photo: Valeria Schulte-Fischedick
Geisternetze, oder ghost nets, sind verloren gegangene oder absichtlich abgetrennte Fischernetze. Die im Meer treibenden oder an Küsten vorzufindenden Netze funktionieren weiterhin und unkontrolliert als Fallen für die maritime Tierwelt. In den Schnüren und Leinen verfangen und verletzen sie sich. Bis zu 25.000 Netze versinken jährlich alleine in europäischen Gewässern, laut der Welternährungsorganisation (FAO)

[2]

. Die Netze bestehen zu Teilen aus Plastik, die sich in kleine Partikel zerteilen, jedoch nicht auflösen, sondern als Mikroplastik Teil der Nahrungskette werden [3]. Laut dem World Wide Fund for Nature (WWF) machten die Geisternetze 2018 mehr als vierzig Prozent des gigantischen Great Pacific Garbage Patch aus [4].
Hulda Ros Gudnadottir arbeitet mit der Ästhetik des Hafens, den dort Beschäftigten und ihren Arbeitsbedingungen. Das ghost net weist nicht nur auf die Auswirkungen der Fischereiindustrie auf die Umwelt hin, sondern auch auf den Kraft- und Arbeitsaufwand durch den Transport und die Reinigung (des Netzes und der Umwelt von dem Netz) durch die Künstlerin.
---
[1]
https://
www.instagram.com/p/CRbN6AuAHd7/
[2]
https://
www.greenpeace.de/sites/www.greenpeace.de/files/publications/160507_greenpeace_factsheet_geisternetze.pdf
[3]
https://www.umsicht.
fraunhofer.de/content/dam/umsicht/de/dokumente/forschung-fuer-markt/kunstoffe-in-umwelt/wwf-studie-verlorene-fischernetze-umsicht.pdf
[4]
https://
www.worldwildlife.org/stories/our-oceans-are-haunted-by-ghost-nets-why-that-s-scary-and-what-we-can-do--23
Underwater breathing Vol 1
18.08.2021
Carola Uehlken
Thanks for amazing insights into the realities of public and private swim training in Berlin. Heike Witte was in conversation with Jessica Korp, as part of her investigation into access to swimming and waters in general. For years Heike has been teaching swimming to groups of people who had long migratory journeys behind them, often crossing waters in traumatising conditions. You can read more about the event
here
.
Unterwasser Atmen Vol 1
18.08.2021
Carola Uehlken
Danke für beeindruckende Auskünfte über die Realitäten des öffentlichen und privaten Schwimmtrainings in Berlin. Heike Witte unterhielt sich mit Jessica Korp im Rahmen ihrer Untersuchung über den Zugang zum Schwimmen und zu Gewässern im Allgemeinen. Seit Jahren gibt Heike Witte Schwimmunterricht für Gruppn von Menschen, die lange Migrationsreisen hinter sich haben und oft unter traumatisierenden Bedingungen Gewässer durchqueren. Mehr Information zum Event hier.
Heike Witte & Jessica Korp, 17.07.2021, photo: Leonie Hugendubel
Still Waters
15.11.2020
Nele Heinevetter (TROPEZ)

︎︎︎ This summer, we intended to make our cultural programme REALITY about how relative our reality is. The system of the open-air swimming pool was going to serve as a starting point for this investigation by means of the visual and performing arts. But then, in spring, reality caught up with us. Covid-19 began to define our new everyday life and plunged the Humboldthain summer pool into unforeseen silence.
Since 2017, TROPEZ has been bringing culture out of the closed environment of classic presentation venues and enabled a diverse audience to experience various art forms close at hand in the unusual setting of the open-air pool. 'There are pool-side snacks, but also readings, performances and workshops. So it's a place where different cultures meet, and they do so at 35 degrees and in the middle of an open-air swimming pool in Berlin, which is usually interpreted in the media as an "intercultural battle zone"', Anne Waak says, describing TROPEZ 2018 in Welt am Sonntag. The outdoor swimming pool Humboldthain in Wedding was and is a miniature of social reality, but the diversity of the pool-goers was an early victim of the pandemic: 'Certain guests are staying away this summer. Above all, those whose presence you as a swimmer would often notice as rather rough and rude: Groups of male adolescents whistling, shouting, staring and butt bombing in the swimmers' lane', Carla Baum wrote boldly of the new, exclusive state of the outdoor pool in her review for Zeit Online. Because only 350 tickets were sold instead of the usual 3500, and these only online and up to a week in advance, children and seniors, extended families and teen cliques were left outside. Furthermore, we heard fewer different languages and saw fewer different skin colours. The heterogeneity of previous years suddenly seemed miles removed. In 2018, together with young participants in the children's workshop Bubbles, organised by TROPEZ and Operndorf Afrika, we had discussed how water could be used as a medium for communication between people who speak different languages.
[1]
But in 2020, it almost seemed superfluous as a medium of mediation, and the few visitors we had now stood out in the water as solitary figures. Even before, disappearing into the crowd of a busy swimming pool had not been a matter of course, particularly for Black people, anthropologist Jessica Korp explains. She was a guest at TROPEZ this summer, observing the few outdoor pool guests and talking to the even fewer Black visitors. In her final presentation 'on the excessive visibility and simultaneous invisibility of Black people' in Humboldthain summer pool, she addressed the structural conditions that lead to the under-representation of Black people in the outdoor pool, as well as the cultural reasons for not taking advantage of such recreational opportunities – including the reverence for water as a spiritual element as well as a lethal danger, e.g. for refugees who came to Europe by sea.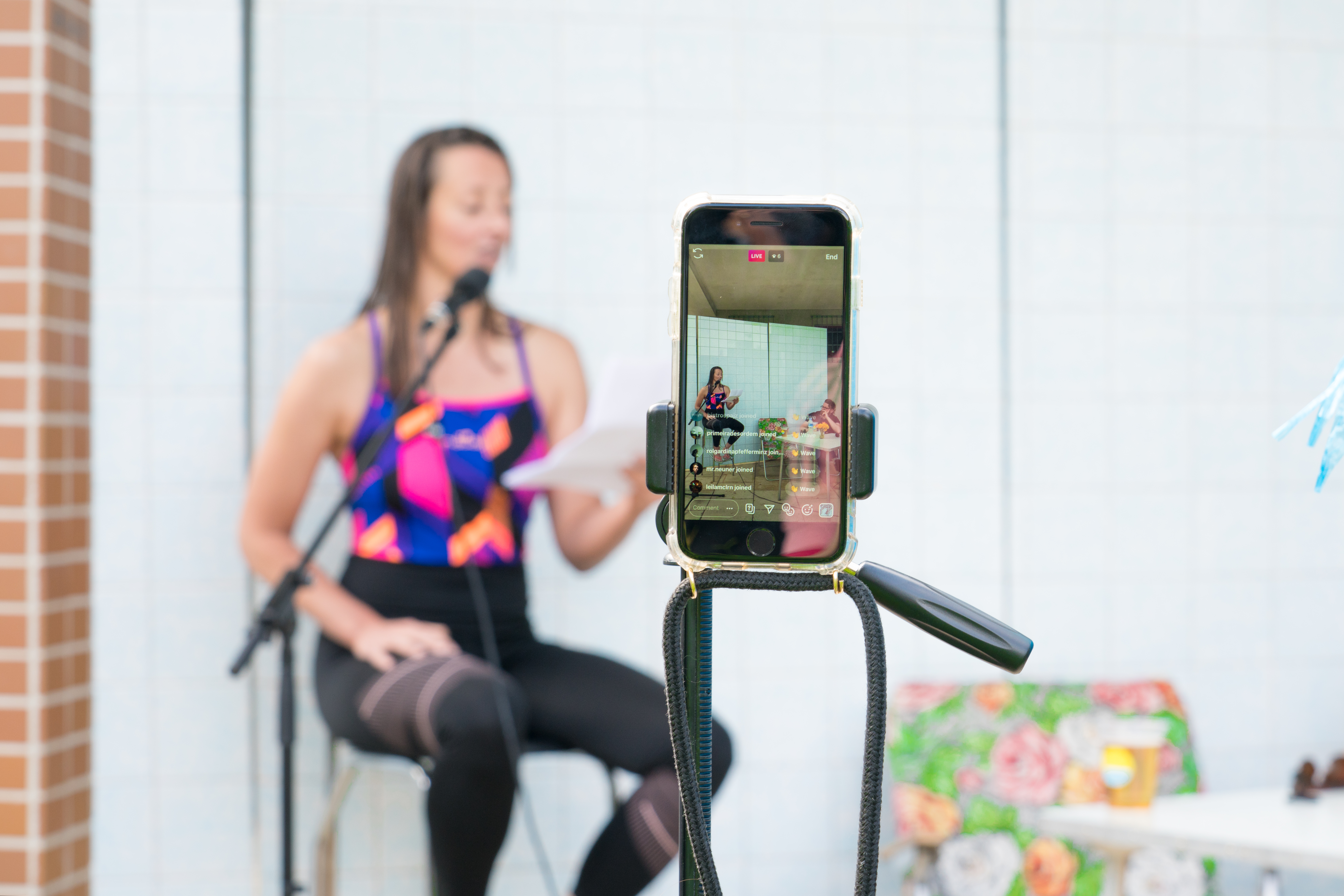 Anna Szaflarski, Empathy When #3, 2020, reading for REALITY, series of readings and podcasts curated by Broken Dimanche Press, TROPEZ Berlin. photo: ink Agop
In order to reach a diverse audience beyond the remaining bathers, i.e. families and artists, hipsters and pensioners, young people and sport swimmers who otherwise share pools and green spaces, TROPEZ for the most part moved its group exhibition REALITY 2020 to the Internet. The invited performers and authors appeared on the TROPEZ TV livestream against the bare background of a tiled wall.
[2]
And in midst of the silence, enchanting moments sprung up between analogue existence and virtual space – For instance, when the audience imagined what the dry-swimming course of author, artist, and ex-swimmer Anna Szaflarski would 'sound' like in the subsequent podcast. Szaflarski had written the text 'The Swimming Pool' on occasion of the reading series Empathy When arranged by Broken Dimanche Press' – a Berlin project space and publishing house run by author John Holten. It recounts her memories as a competitive swimmer and the 8,000 hours she spent with her head under water between the ages of 6 and 18. It disclosed that she didn't do this because she was particularly competitive or wanted to train every morning at 4:30 a.m., but because she grew up in a household of Eastern European migrants in Canada, with an ex-athlete as her father for whom productivity alone mattered. Her underwater hiding place offered the only opportunity for idleness: 'A majority of my time in the pool was spent daydreaming. When I was still too little to reach the ground in the shallow end of the racing pool, I would imagine terribly sad things, […] And I'd let myself cry freely until my little goggles filled up with tears. As a teenager I would formulate and rework fantasised conversations with the objects of my affection, tweaking them tirelessly until they were perfect but never to be unleashed into the world. Life underwater was entirely private', she says, and then sums up: 'You can learn to rest while moving, to find a private sanctuary that is warm and wet, where you are indistinguishable from others, gloriously indiscriminate, promiscuous and fused.' Her recount is so touching, not least because her experiences of competitive sport, her migration background and being a child and teenager coincided in such an unforeseen way, namely in the tranquility of a swimming pool surrounded by other bodies.
---
[1]
This intercultural art project initiated by Christoph Schlingensief in 2009, envolves theatre, art and opera organised around the Operndorf School and Operndorf Hospital, aimed to inspire hope and promote a relationship on the basis of equality between Europe and Africa.
[2]
We are aware, of course, that people who did not go to the outdoor pool in 2020 may also be among those for whom access to computers and participation in digital offers were not self-evident.
---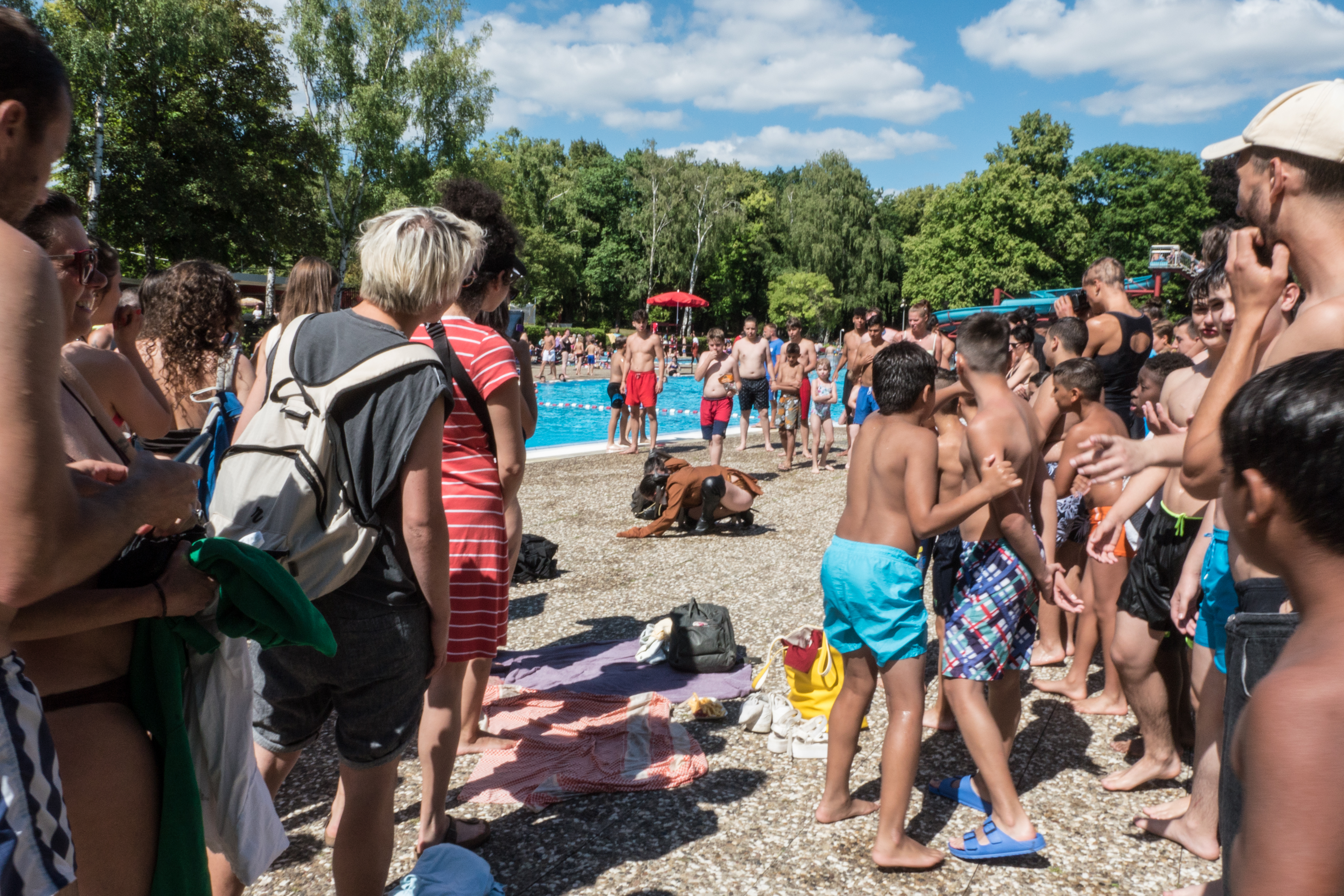 New Noweta, Mid Sparagmos, 2018, Performance, VOYAGE, TROPEZ Berlin. photo: ink Agop
Hauen & Stechen,
Dive Dark,
2020, Performance, REALITY, TROPEZ Berlin. photo: ink Agop
Stille Wasser
15.11.2020
Nele Heinevetter (TROPEZ)

︎︎︎Diesen Sommer sollte unser Kulturprogramm REALITY davon handeln, wie relativ unsere Wirklichkeit ist. Das System Freibad sollte für diese Untersuchung mit den Mitteln der bildenden und darstellenden Kunst als Ausgangspunkt dienen. Aber dann holte uns im Frühjahr die Realität ein. Covid-19 bestimmte den neuen Alltag und tauchte das Sommerbad Humboldthain in unvorhergesehene Stille.

Das TROPEZ holt seit 2017 Kultur aus dem geschlossenen Umfeld klassischer Präsentationsorte und ermöglicht einem diversen Publikum verschiedene Kunstformen in der ungewöhnlichen Kulisse des Freibades als etwas Nahbares zu erfahren. "Es gibt Badesnacks, aber auch Lesungen, Performances und Workshops. Es ist also ein Ort, an dem unterschiedliche Kulturen aufeinandertreffen, und das bei 35 Grad und mitten in einem Berliner Freibad, was in den Medien ja meist als 'interkulturelle Kampfzone' interpretiert wird", beschrieb Anne Waak das TROPEZ 2018 in Welt am Sonntag. Das Weddinger Sommerbad Humboldthain war und ist ein Brennglas für gesellschaftliche Wirklichkeit und der Pandemie fiel zunächst einmal die Vielfalt der Freibadbesucher*Innen zum Opfer: "Bestimmte Gäste bleiben diesen Sommer ganz fern. Vor allem solche, deren Anwesenheit man als Schwimmerin sonst oft unsanft zu spüren bekommen hat: Gruppen von männlichen Heranwachsenden, die pfeifen, rufen, Blicke werfen und Arschbomben in die Schwimmerbahn machen", traute sich Carla Baum in ihrer Bestandsaufnahme für Zeit Online über den neuen, exklusiven Zustand im Freibad schreiben. Weil statt der üblichen 3500 nur 350 Eintrittskarten verkauft wurden, und diese ausschließlich online und bis zu einer Woche im voraus, blieben Kinder und Senior*innen, Großfamilien und Teenie-Cliquen fern. Wir hörten außerdem weniger unterschiedliche Sprachen und sahen weniger verschiedene Hautfarben. Die Heterogenität aus den Vorjahren schien plötzlich weit weg zu sein. 2018 hatten wir noch mit jungen Teilnehmer*Innen des vom TROPEZ und dem Operndorf Afrika organisierten Kinderworkshop Bubbles überlegt, wie Wasser als Medium zwischen unterschiedlichen Menschen, die verschiedene Sprachen sprechen, zur Kommunikation dienen kann.
[1]
2020 schien es als vermittelndes Medium nahezu überflüssig, die wenigen Besucher*innen stachen wie Solitäre aus der Wasserfläche. Das Verschwinden in der Menge eines überfüllten Schwimmbeckens war auch zuvor besonders für schwarze Menschen keine Selbstverständlichkeit, erklärte die Anthropologin Jessica Korp. Sie war diesen Sommer im TROPEZ zu Gast, hat die wenigen Freibadgäste beobachtet und sich mit den noch weniger schwarzen Besucher*innen unterhalten. In ihrer Abschlusspräsentation "Zur übermäßigen Sichtbarkeit und gleichzeitigen Unsichtbarkeit von schwarzen Menschen" im Sommerbad Humboldthain adressierte sie die strukturellen Bedingungen, die zur Unterrepräsentation von schwarzen Menschen im Sommerbad Humboldthain führen, aber auch kulturelle Gründe für das Nichtwahrnehmen des Freizeitangebotes – darunter die Ehrfurcht vor Wasser als spirituelles Element wie auch als tödliche Gefahr, etwa für Menschen mit Fluchterfahrung, die über den Wasserweg nach Europa kamen.

Um über die verbleibenden Badegäste hinaus das Publikum in der sonstigen Vielfalt zu erreichen, d.h. die Familienclans und Künstler*innen, Hipster und Rentner*innen, Jugendliche und Sportschwimmer*innen, die sich sonst Becken und Grünanlage teilen, verlegte das TROPEZ seine Gruppenausstellung REALITY 2020 größtenteils ins Internet. Die eingeladenen Performer*innen und Autor*innen traten im Livescreen TROPEZ TV auf – vor dem reduzierten Hintergrund einer gekachelten Wand, ein Werk des Künstlers Michael Kleine für REALITY.

[2]

Und inmitten der Stille ereigneten sich zwischen analogem Dasein und virtuellem Raum bezaubernde Momente, etwa wenn sich die Zuschauenden vorstellten, wie der Trockenschwimmkurs der Autorin, Künstlerin und Ex-Schwimmerin Anna Szaflarski hinterher im Podcast »klingen« würde. Szaflarski hatte für ihre Lesung im Rahmen der von Broken Dimanche Press, einem Berliner Projektraum und Verlag des Autors John Holten, organisierten Reise Empathy When den Text "The Swimming Pool" verfasst. In diesem erzählte sie von ihren Erinnerungen als Wettkampfschwimmerin und den 8000 Stunden, die sie im Alter zwischen 6 und 18 Jahren mit ihrem Kopf unter Wasser verbracht hatte. – Und dass sie das nicht tat, weil sie besonders kompetitiv gewesen wäre oder gerne jeden Morgen um 4.30 Uhr trainieren wollte, sondern weil sie in einem Haushalt osteuropäischer Migrant*innen in Kanada aufwuchs, mit einem Ex-Athleten als Vater, für den Produktivität allein zählte. Einzig ihr Unterwasser-Versteck bot Raum zum Müßiggang: "A majority of my time in the pool was spent daydreaming. When I was still too little to reach the ground in the shallow end of the racing pool, I would imagine terribly sad things, […] And I'd let myself cry freely until my little goggles filled up with tears. As a teenager I would formulate and rework fantasized conversations with the objects of my affection, tweaking them tirelessly until they were perfect but never to be unleashed into the world. Life underwater was entirely private (dt.: Einen Großteil meiner Zeit im Pool verbrachte ich mit Tagträumen. Als ich noch zu klein war, um den Boden am flachen Ende des Rennbeckens zu erreichen, stellte ich mir ganz unheimlich traurige Dinge vor. […] Und ich weinte mich frei, bis meine kleine Brille mit Tränen gefüllt war. Als Teenager reformulierte und überarbeitete ich fantasierte Gespräche mit Objekten meiner Begierde und optimierte diese unermüdlich, bis sie perfekt waren, aber niemals in die Welt entlassen werden sollten. Das Leben unter Wasser war vollkommen privat.)", beschreibt sie ihr Leben unter Wasser, und fasst zusammen: "You can learn to rest while moving, to find a private sanctuary that is warm and wet, where you are indistinguishable from others, gloriously indiscriminate, promiscuous and fused. (dt.: Du kannst lernen, Dich in der Bewegung auszuruhen, ein privates Refugium finden, das warm und nass ist, in dem Du nicht von anderen unterschieden werden kannst, wundervoll undiskriminierbar, promiskuitiv und verschmilzend)" Ihre Schilderung war nicht zuletzt deswegen so berührend, weil in ihr Leistungssport, Migrationshintergrund und Kind- bzw. Teenagersein auf eine so unvorhergesehene Weise ineinander fielen, nämlich in der Ruhe des Schwimmbeckens inmitten anderer Körper.
---
[1]

Das 2009 von Christoph Schlingensief initiierte interkulturelle Projekt in Burkina Faso integriert Kunst, Theater und Musik um die Operndorfschule und die Operndorfkrankenstation herum, will Hoffnung wecken, und fördert eine Beziehung zwischen Europa und Afrika auf Augenhöhe.
[2]

Wir sind uns natürlich bewusst, dass diejenigen die in 2020 nicht mehr ins Freibad kamen, auch zu denjenigen zählen dürften, für die der Zugang zu Computern und Teilhabe an digitalen Angeboten nicht selbstverständlich waren.
Swimming Pool Blue
31.10.2020

Andrew Berardini

︎︎︎ An inflatable lounge drifts in the cool, chemical blue. Pink parts swimsuited, a curve of naked skin slowly tans, and manicured fingernails dip thoughtlessly into the surface of the water. Chlorine lends it clarity but subtle impurities capture the low end of light's spectrum, and the water beams back the wettest of chemical blues. In the sky above, weary air travelers fingering barf bags bend against the oval windows as the plane banks for descent, their dazed eyes counting the kidney-curved blues that punctuate the tract houses under the swaying palm trees. Midnight teenagers hop padlocked chain link, a redheaded protoslut with a black eye, a thin boy with nipple piercings, a pasty-skinned gothette, a bitter blonde with glittery lipgloss, passing storebrand vodka and skinny-dipping in the shadowy waters, its color muted but still a rippling blue under the distant blue-white streetlights.

Summer children dream of its wet play, their eyes open underwater to a hushed world beneath this one that we can visit but never live. Following the long half-hour after lunch, parentally imposed, the two-tone call of "Marco" is met with a quiet splash and the reluctant return of "Polo." In a water park wonderland, the endless slides, tubed and slick, empty with a splash into frothy pools, bare feet slap on the hot concrete running from ride to ride, and the scent of sunscreen drips off all the shivering, half-naked adolescents. Stretch-marked and beer-bellied, mothers and fathers lackadaisically watch over their sopping children. With bodies beyond the firm joys of youth, they still shudder with the first bracing chill and thrill of each stroke and gasp, goose-fleshed and glistening when it's their turn to swim. In those cool waters sloshes the promise of pleasure palaces and leisure classes, desert oases and movie stars, numb languor and empty excess.

Off Sunset Blvd, Joe Gillis floats facedown in the pool he always wanted, though the black and white film can't show the hue of the water in his lungs. A wastrel Benjamin in The Graduate basks in the directionless drift of post-coital bliss and suburban ennui, an earned rest from Mrs. Robinson's mature charms. A California dream, Hockney's naked boys make a silent splash into its depthless color, the perfect sunlight casting rippling shadows made permanent with paint. The blank stare of Ed Ruscha's book "Nine Swimming Pools" are matched with empty pages and concluded with a broken glass.

Wait long enough and the sunstroked drift ends. A twilight chill, your mom's voice calling for supper, the homicide squad's sirens, a perfect moment passed, purchased on credit, interest paid with more than a sunburn.




Swimming Pool Blue
31.10.2020

Andrew Berardini

︎︎︎Ein aufblasbares Sofa treibt im kühlen, chemischen Blau. Rosa Körperteile im Badeanzug, gewölbte nackte Haut bräunt langsam vor sich hin, manikürte Fingernägel tauchen gedankenlos in die Oberfläche des Wassers ein. Chlor verleiht ihm Klarheit, doch kleinste Verunreinigungen erfassen das untere Ende des Lichtspektrums, das Wasser spiegelt das feuchteste chemische Blau. Hoch am Himmel fingern müde Flugreisende an Kotztüten und lehnen sich gegen die ovalen Luken, während das Flugzeug zum Sinkflug ansetzt. Ihre benommenen Augen zählen die nierenförmigen Blauflecken zwischen den Reihenhäusern unter den sich im Wind wiegenden Palmen. Mitternächtliche Teenager steigen über einen abgesperrten Maschendrahtzaun, eine rothaarige Proto-Schlampe mit einem blauen Auge, ein dünner Junge mit Brustwarzenpiercings, eine Gruftibraut mit käsefarbener Haut, eine verbitterte Blondine mit glitzerndem Lipgloss reichen Billigwodka herum und baden nackt im schattigen Wasser, farblich gedämpft aber immer noch ein welliges Blau unter den fernen blau-weißen Straßenlaternen.

Sommerkinder träumen vom Spiel im kalten Nass, öffnen ihre Augen unter Wasser in einer stillen, tieferen Welt, die wir besuchen, aber niemals bewohnen können. Nach der von den Eltern auferlegten halbstündigen Pause nach dem Mittagessen folgt auf den zweimaligen Ruf "Marco" ein leises Platschen und die widerstrebende Antwort "Polo". Im Wassererlebnispark, endlose Rutschen, schlauchig und glitschig, die sich platschend in schäumende Becken entleeren, nackte Füße klatschen auf heißen Beton, laufen von Rutsche zu Rutsche, und ein Geruch von Sonnencreme, die von all den zitternden, halbnackten Jugendlichen herabtropft. Mütter mit Schwangerschaftsstreifen und Väter mit Bierbäuchen beaufsichtigen lustlos ihre triefenden Kinder. Mit ihren Körpern jenseits der prallen Freuden der Jugend schaudern sie beim ersten Hauch belebender Kälte und keuchen bei jedem Schwimmzug, gänsehäutig und glänzend. In diesen kühlen Gewässern schwappt das Versprechen von Vergnügungspalästen und Freizeitkursen, Wüstenoasen und Filmstars, tauber Trägheit und leerem Übermaß mit.

Abseits des Sunset Boulevards treibt Joe Gillis mit dem Gesicht nach unten in dem Pool, den er immer wollte, obwohl der Schwarz-Weiß-Film den Farbton des Wassers in seiner Lunge nicht sichtbar macht. Der Taugenichts Benjamin sonnt sich in Die Reifeprüfung in der ziellosen Drift postkoitaler Glückseligkeit und vorstädtischen Ennui, während er eine verdiente Auszeit von Mrs. Robinsons reifem Charme nimmt. Hockneys nackte Jungs, ein kalifornischer Traum, tauchen lautlos in bodenlose Pools, perfektes Sonnenlicht wirft kräuselnde Schatten, die von der Farbe verewigt werden. Die stummen Blicke in Ed Ruschas Buch Nine Swimming Pools werden von leeren Seiten zurückgeworfen und einem zerbrochenen Glas abgeschlossen.

Warte nur lange genug, dann endet das sonnensatte Treiben. Abendkühle, die Stimme deiner Mutter, die zum Abendessen ruft, die Sirenen der Streifenwagen, ein perfekter Moment ist vorbei, auf Pump gekauft, mit Zinsen, höher als ein Sonnenbrand.