scroll for german version
︎︎︎
KLARA HOBZA'S
(*1980) work orbits the paradox of biographical events and permanent flux. It is characterised by long-term projects that initially seem impossible, or by the staging of intense events and encounters. Her subsequent experiences serve as the raw material for a pictorial articulation through the use of a variety of media and techniques. Her
artistic endeavours
are justified through petitions signed by filmmakers and artists, lending her works systematic necessity. She currently lives in Berlin and works wherever one allows her to.
De-straightening on behalf of the Intellectual Revolution

by Carola Uehlken
I am planning a journey to the Baltic coast, where I will sit at my laptop in the co-working space of Baltic Bay and enjoy the view of the artificial coast off the island of Rügen. I am hoping that this journey and the bracing sea air will make my words flow about our increasingly absurd relationships with wilderness and water. But 2020 is also the year when it becomes obvious, even to me, that there are others—those who decide how one may move in this world.
Klara Hobza's
Early Endeavors
, as she herself calls them—placing them within the chronicle of her work—may be considered part of our current, slowly but steadily developing intellectual revolution towards environmental awareness. The effort to engage with the tides and to observe them in relation to ourselves for instance, is illustrated in her video work
Schlickschlacht zu Schillig
[engl. "Mud Fight at Schillig"]. Hobza films a jujutsu fight on the mudflats of the Northern German Wadden Sea, a place which itself is caught in a daily struggle for identity between land and sea. In relation to the vastness of the landscape, the scene plays out on a vanishingly small scale— the rules are set by a referee, while sculptors akin to courtroom sketchers, attempt to document the unfolding spectacle. In the following part, we witness a gracious Bojutsu kata performed in the mud. Hobza makes it seem as if mankind may find itself in harmony with the biodiversity of the environment, through those martial art techniques as practiced for centuries. But if one considers the billions of micro biotic systems with which the fighters are inundated, or the artificially produced materials that wash into the sea with the tide every day, the protagonists' activities only manage to appear absurd.
Klara Hobza, Die Schlickschlacht zu Schillig, 2016, HD video, 9:59 min, film still. Courtesy: Klara Hobza

Hobza's productions generally refer to specific periods of her life. It could be her moving from the States back to Germany, or an attempt to communicate with her New York neighbourhood using Morse code. Furthermore, her efforts always seem to reflect a thirst for knowledge about historical events, like in the the long-term project
Nay, I'll have a Starling
. In 1890, all bird species mentioned in Shakespeare's plays were exported from Great Britain to the United States, where they eventually succeeded in reproducing. Starlings are now considered a plague in the States and numerous methods are employed to keep them in check. Hobza makes it her task to free the North American continent of their burden by literally abducting the Starling's young. Submitting herself to the rules of transportation, she has no choice but to smuggle the birds' eggs back to Europe in her mouth or strapped around her legs. This not only unveils the nature of historical action or current transportation regulations, but also the increasingly severe power we impose upon our environment and other life forms.
Intellectual revolutions proceed very, very slowly. The ripple caused by mountains on the move takes longer still. Let's take a look at Hobza's longterm project,
Diving Through Europe
. Measured in terms of gross domestic product, the EU's internal market is the largest common economic area in the world, an area which Hobza wishes to dive through within the span of 30 years. That is roughly the time it took to build the Main-Danube Canal, along which about 5 million tons of goods are transported each year. Due to current climatic conditions, measurements of the canal have exhibited low water levels for several years, and subsequently the number of goods being transported has begun to decrease. The path of the river, which had once masterfully meandered its way through Nuremberg, Vienna and around the romantic island of Ada Kaleh—now sunken due to the construction of the canal—has been straightened, and for long stretches Hobza will have to swim through artificial canals that are not designed for human exercise.
There was not always a waterway that directly connected the port in Rotterdam with the Black Sea. The water that permeated through the Alps and into the European landmass was held back by mountain ranges. According to legend, this is what happened:
Seven giants were commissioned to open the Rhine. Equipped with gigantic spades, they cleared their way through the remorseless volcanic rock and thus paved the way for many myths and tales. After the work was completed, the giants shook the dust from their bodies and the dirt from their spades. The resultant heaps of earth became the so-called Siebengebirge, which still lines the Rhine today.
Diving Through Europe
not only unfolds in the river, but also in preparatory encounters with outstanding personalities such as her diving trainer and world-record expert, Namik Ekin, with whom she trained her lung capacity and learned how to eat bananas and drink under water. She enters danger zones that are protected from people like her by high security mechanisms and a large set of international trade regulations. Equipped with a petition signed by filmmakers in her wetsuit, that expresses the necessity of her project for humanity, Hobza'a enthusiasm remains uncompromised. In fact, the sincerity with which she engages her projects, resembles that of astronauts making extensive preparations for their journey to Mars, exploring new horizons for humanity. Hobza reclaims once natural habitats as a matter of course.
A leatherback sea turtle covers 7500 km in one year. We do not know exactly why it makes its journey. There are many hypotheses. Klara Hobza's
Early Endeavors
take her through bodies of water, which will continue to change decisively and in ways we will only gradually come to understand within the next 20 years. In the meantime, we might encounter her on her path and be able to formulate hypotheses.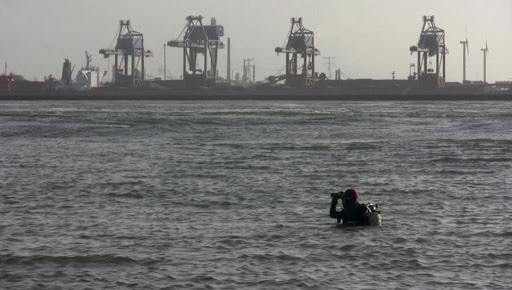 Klara Hobza,
Die Europadurchtauchung (Diving through Europe)
, part 3: Europort, 2012, film still. Courtesy: Klara Hobza

KLARA HOBZA (*1980) Werk umkreist das Paradox zwischen biografischen Events und dem permanenten Lauf der Dinge. Es zeichnet sich durch zunächst als unmöglich scheinende Langzeit-Vorhaben oder auch durch die Inszenierung von intensiven Ereignissen und Begegnungen aus. Deren Erlebtes dient der Künstlerin im Anschluss als Rohmaterial zur bildlichen Artikulierung mithilfe einer Vielzahl von Medien und Techniken. Ihre künstlerischen Bemühungenwerden mit von Filmemacher*innen und Künstler*innen unterschriebenen Petitionen gerechtfertigt und machen ihre Arbeit zu einem systemrelevanten Unterfangen. Momentan lebt sie in Berlin und arbeitet überall wo man sie lässt.
Beungradigungen im Dienste der geistigen Revolution

von Carola Uehlken

Ich plane den Weg an die Ostseeküste, um mich im co-working space Baltic Bay mit einem Blick auf die künstlich strukturierte Küste vor Rügen an den Laptop zu setzen und hoffe, dass die Fahrt und die frische Meeresluft meine Worte über unser zunehmend absurdes Verhältnis zu Wildnis und Wasser fließen lässt. Doch das Jahr 2020 ist es, in dem es auch für mich offensichtlich wurde, dass es andere sind, die sich Gedanken darüber machen, wie wir uns in dieser Welt bewegen.

Klara Hobzas Frühe Bemühungen, wie sie sie selbst bezeichnet und sie damit in ihre Chronik ordnet, lassen sich in unsere momentane stetig aber langsam entwickelnde geistige Revolution zu einem Bewusstsein für unsere Umwelt einordnen: Die Bemühung zum Beispiel, sich mit den Gezeiten auseinanderzusetzen, und sie in einem Maßstab zu uns selbst zu betrachten, veranschaulicht sie in ihrer Videoarbeit Schlickschlacht zu Schillig. Sie filmt einen Ju-Jutsu-Kampf auf dem sensiblen Grund des norddeutschen Wattenmeeres, dass sich selbst im täglichen Kampf um die Identität zwischen Land und Meer befindet. Der Schauplatz wird im Verhältnis zur Weite des Landes verschwindend klein abgesteckt und von einem Schiedsrichter mit Regeln versehen, während Bildhauer ähnlich wie Gerichtszeichner versuchen, die Szene skulptural einzufangen. Im zweiten Part werden wir Zeuge einer konzentrierten Bo-Jutsu-Kata-Performance im Schlick. Hobza lässt den Menschen mit seinen jahrhundertelang praktizierten Kampfkunsttechniken so aussehen, als wisse dieser sich in einer Balance zu seiner biodiversen Umgebung durchaus zurechtzufinden. Wenn man sich Gedanken über die Milliarden von mikrobiotischen Systemen macht, mit denen sich die Kämpfer*innen einsudeln, und die künstlich hergestellten Materialien, die täglich mit der Flut vom Land ins Meer gespült werden, dann wirken die Tätigkeiten der Protagonist*innen absurd.
Hobzas Produktionen beziehen sich meistens auf einen bestimmten Zeitraum in ihrem Leben. Das kann ihr Umzug aus den Staaten zurück nach Deutschland sein, oder der Versuch, durch Morsecode mit ihrer New Yorker Nachbarschaft zu kommunizieren. Ihre Bemühungen scheinen stets auch ihren Wissensdrang für historische Ereignisse zu spiegeln. So entwickelte sie zum Beispiel das Langzeitprojekt Nay, I'll have a Starling. Im Jahr 1890 wurden alle Vogel-Arten, die in Shakespeares Stücken Erwähnung fanden von Großbritannien in die USA ausgeführt und konnten sich dort vermehren. Stare werden in den USA als Plage angesehen, und es gibt unterschiedliche Methoden, sie im Zaum zu halten. Hobza macht es sich zur Aufgabe, den Nordamerikanischen Kontinent von der Bürde zu befreien und betreibt im wahrsten Sinne des Wortes Mundraub. Sich den Transportregeln unterwerfend, bleibt ihr keine andere Wahl, als die Vogeleier in ihrem Mund oder um die Beine geschnallt, zurück nach Europa zu schmuggeln. Dabei wird nicht nur die Natur der historischen Aktion und aktueller Transportmechanismen zur Schau gestellt, sondern auch die ernstzunehmende Macht, die wir auf unsere Umgebung und andere Lebensformen ausüben.
Geistige Revolutionen verlaufen sehr, sehr langsam. Länger noch dauert die Welle, die Berge schlagen, wenn sie sich bewegen. Widmen wir uns Hobzas Langzeitprojekt: Diving Through Europe. Gemessen am Bruttoinlandsprodukt ist der EU-Binnenmarkt einer der größten gemeinsamen Wirtschaftsräume der Erde, den sie innerhalb von 30 Jahren durchtauchen möchte. Das ist in etwa die Zeit, die es dauerte, um den Main-Donau-Kanal zu bauen, auf dem pro Jahr um die fünf Millionen Tonnen Ware transportiert werden. Durch die derzeitigen Klimabedingungen zeigen die Pegelstände nun schon seit einigen Jahren niedrige Wasserstände an, sodass die Anzahl der Transportgüter sinkt. Die Flusslinie, wie sie sich damals virtuos durch Nürnberg, Wien und um die durch den Bau des Kanals versunkene romantische Insel Ada Kaleh schlängelte, wurde begradigt, und über weite Strecken wird Hobza künstliche Kanäle durchschwimmen müssen, die nicht für die menschliche Körperertüchtigung konzipiert waren. Eine Wasserstraße, die den Hafen in Rotterdam direkt mit dem Schwarzen Meer verband, gab es nicht immer. Die Wassermengen, die von den Alpen in die Europäische Landmasse drangen, wurden durch Gebirgsketten zurückgehalten. Der Legende zufolge verhielt es sich so: Sieben Riesen wurden beauftragt, den Rhein zu öffnen. Bestückt mit gigantischen Spaten bahnten sie sich den Weg durch unbarmherziges Vulkangestein und schufen die Quelle für etliche Mythen und Sagen. Die Giganten schüttelten sich nach getaner Arbeit den Staub vom Leib und den Dreck vom Spaten. Die Haufen ergaben die noch heute so genannten Siebengebirge, die den Rhein umsäumen.


Klara Hobza,
Die Europadurchtauchung (Diving through Europe),
part 3: Europort, 2012, drawing. Courtesy: Klara Hobza

Diving Through Europe entfaltet sich nicht nur im Fluss, sondern auch durch vorbereitende Begegnungen mit herausragenden Persönlichkeiten wie zum Beispiel ihrem Tauchtrainer und Experten in Weltrekordsfragen Namik Ekin, mit dessen Schulung sie sich der Aufgabe stellt, an ihrem Lungenvolumen arbeitet und lernt, wie man unter Wasser Wasser trinkt und Bananen isst. Sie betritt Gefahrengebiete, die durch Hochsicherheitsmechanismen und ein Regelwerk internationaler Handelsbestimmungen vor Menschen wie ihr geschützt sind. Bestückt mit einer Petition in ihrem Taucheranzug, unterschrieben von Filmemachern, die sich für die Notwendigkeit ihres Projektes für die Menschheit aussprechen, bleibt ihr Enthusiasmus uneingeschränkt. Die Ernsthaftigkeit, mit der sie sich in ihre Projekte begibt, gleicht der von Astronauten bei ihren aufwendigen Vorbereitungen für ihren Weg zum Mars, um einen anderen Planeten für die Menschheit zu erforschen. Mit einer Selbstverständlichkeit fordert sie sich einst natürliche Lebensräume zurück.
Eine Lederschildkröte durchquert eine Strecke von 7500 Kilometern in einem Jahr. Warum sie dies tut, wissen wir noch nicht ganz genau. Es gibt viele Hypothesen. Klara Hobza bewegt sich mit ihren Frühe Bemühungen durch Fahrwasser, die sich innerhalb der nächsten 20 Jahre weiterhin ausschlaggebend und für uns langsam begreifbar verändern werden. Vielleicht treffen wir sie zwischendurch auf ihrem Weg und können Hypothesen aufstellen.